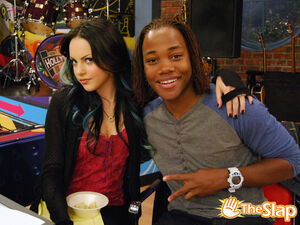 The friendship between ArianaFan14 and Crazychick08 is known as Cariana (CC/Ariana).
Trivia
Both are part of the FSB.
Ariana attended CC's wedding (even though she missed the entire ceremony).
CC stated that Ariana was her newest fave due to the FSB picture the latter made.
They both ship Jatie, Marimo, and Camaya.
They disagree on Victorious ships: CC ships Bade and Ariana ships Bori. However they both ship Cabbie and Cade is a BrOTP.
Both like Ariana Grande's music (though Ariana definitely loves her more).
CC used the Ariana Grande Wiki, which Ariana is the associate admin on, to update her lyrics wiki page.
Neither ship Jandre, though CC considers them a BrOTP.

Ironically, they represent this pairing in the FSB (Ariana is André and CC is Jade).
Their ships
Camaya (Degrassi)
Jandré (Victorious)
Gallery
Community content is available under
CC-BY-SA
unless otherwise noted.