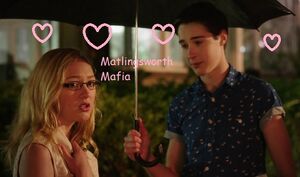 The Matlingsworth Mafia are all the users that ship Matlingsworth really hard.
Members
Trivia
Most of them hate Zaya and Ziles.
Their theme songs are "No Scrubs" by TLC and "Take a Hint" from Victorious as a way to describe Zaya.
They have a pet name for Zaya.
Their Ships
Matlingsworth
American Horror Story: Coven Characters
Mafia Quotes
"Matlingsworth is endgame and ain't no bitch gonna try me!"
"Gots to have me that Matlingsworth love; that's all I'm thinking of."