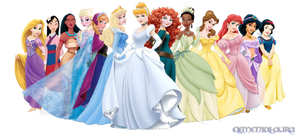 The Disney Princesses consists of Ultraviolets, Scallisons, AlauraRosey, Got2BFionaC101, Rage&Love, FanCy, Safe&Sound, Degrassi Forever, Gruvias, Misery Business, Gaskarths, MarauderScarlet, and Danixcalifornia.
Overview
Being the perfect ladies they are, it's only fitting that they are Disney Princesses.
Trivia
Ships
Lizzy: Snow White
Catie: Cinderella
Alaura: Aurora
Tori: Ariel
Joanna: Belle
Ratchet Tori: Jasmine
Katie: Pocahontas
Wendy: Mulan
Yasmine: Tiana
Kelly: Rapunzel
Ash: Merida
Annie: Anna
Dani: Elsa
Community content is available under
CC-BY-SA
unless otherwise noted.